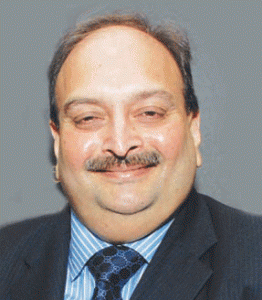 Gitanjali Group is the world's largest branded jewellery retailer with an annual turnover of over Rs. 10,500 crore ($2.1 billion). The India based group was established in 1966 and today its activities are spread across the entire value chain from sourcing and processing rough diamonds to manufacturing, branding and retailing gold and diamond jewellery. Gitanjali Gems Ltd., which was listed on the Indian stock exchanges in 2007, is the flagship company of the Gitanjali Group. Enjoying Sightholder status with DTC through a promoter group company, Digico, the Group has strategically positioned itself to manufacture and promote diamonds as well as studded jewellery, at the branded retail level. Gitanjali has combined a world class manufacturing discipline with a reach-enhancing retailstrategy to emerge as one of the most valuable jewellery conglomerates in the country today.
Led by Mehul Choksi, it's Chairman and Managing Director, Gitanjali Group is one of the largest integrated diamond and jewellery manufacturer-retailers in the world and a leading name in the global gem and jewellery industry. Choksi is a visionary who from the mid-80s has led the expansion and diversification of the company. In the early 1990s, he pioneered the development of branded jewellery in India, launching Gili in 1994, and since then has developed a large portfolio of renowned jewellery brands for different consumer segments and needs, which are retailed both in India and overseas. Today, brands from the Gitanjali Group including Nakshatra, Gili, D'damas, Asmi, Sangini and others are among the most visible and largest selling in India.
While almost all its products are aimed at the consumer, the company made launched Diya, it's first B2B diamond jewellery brand for manufacturers and the trade. It's everyone's dream to possess the rarest thing on the planet earth and it's a dream of every women to possess diamond jewellery. To make that dream come true, Gitanjali introduced "Diya" diamond jewellery. The diamond jewellery for all those alluring eyes that saw it in dreams can now be the reality by possessing, "Diya" diamond jewellery.
Gitanjali as a group has been in the Indian market for over 4 decades, now. The company has an added advantage over the competition of an extensive volume of statistical data of changing consumer behavior pattern across categories and price brackets, nationwide. Diya is a brand with exquisite designs in the fast moving price brackets. The product portfolio includes pendants, earring, rings, and bracelets at amazingly affordable price. Each piece is BIS hallmarked and the details of the diamond content are laser etched on it. Further more, it comes with a certificate of Gitanjali Assurance. Putting it simply, the brand offers 'Authentic Certified Products'.
The jewellery is so reasonably priced and elegantly designed, that every woman would want her share of the sparkling diamond. The freshness of Diya jewellery, speaks loud through its designs which are selected after a rigorous survey of 6300 women, spanning across India. Each piece is being designed by top designers in the industry. The shape, size and contours of the designs have already become legendary. Diya Jewellery has a Fantastic Diamond and Gold ratio, which is better than most in the jewellery industry. With low gold weight content, high value diamond variable, B.I.S gold hallmarking, laser inscripted details, Gitanjali authenticity certificate, Diya offers best, reasonable jewellery that can be bought or gifted by anyone or everyone.
GETTING A MOVE ON:
In a bid to stepping up its retail foray, the Gitanjali Group (Gitanjali Gems Ltd.) acquired a 76 percent stake in Salasar Retail Ltd. on 16th December 2009 through its wholly owned subsidiary Gitanjali Lifestyle Ltd. Salasar retail was engaged in the business of retailing, selling, trading and distributing all kinds of cloth, cotton, synthetics, silk yard, readymade garments etc. and was positioned as a chain of stores catering to the value retail segment. Maya, a part of Gitanjali Lifestyle Ltd is a chain of multi-brand format departmental stores that offers lifestyle products through a mélange of domestic & international brands. Maya aspires to become a one stop destination catering to the lifestyle requirement of a modern woman who purchases for herself, kids, home and men.Maya offers an evolving product mix that includes more than 150 national and international brands across Apparels, Jewellery, Watches, Accessories and Footwear among other lifestyle products.
The exclusivity of Maya stores is that it has got the most stylish and exclusive range of jewellery brands like Gili, Nakshatra, D'damas, Asmi, Sangini, Shuddhi and many others to create an aspiration. Maya takes pride in providing a great shopping experience with a state of art store décor and interiors. The company has a specialized team of merchandisers to offer contemporary products to our customers.
Leveraging the Gitanjali brand name, Maya looks forward to strengthen the synergies between the jewellery business and lifestyle retailing.Currently the group has 10 stores spread across North and Central India with average store size of 20000 sq.ft in Delhi, Indore, Allahabad, Gwalior, Guwahati, Cuttack, Raipur, Agra and Nanded. Key catchment areas include prime locations, main shopping areas, and prime hotels & residential complexes. Geographical spread indicates predominance in the Central and Eastern with opportunity for infrastructure in Western and Southern India in key cities.
Upcoming locations include Mumbai, Ranchi, Hubli and many other key locations across the country. Maya, now integrated with Gitanjali Lifestyle Ltd., the Lifestyle Retail Arm of the Gitanjali Group seeks to strategically develop business in the premium retail segments and strengthen the Lifestyle connect. Maya has now positioned itself as a lifestyle store for the women, who take major purchases decisions in an Indian household. With almost all stores converted into Maya by Gitanjali Lifestyle format post acquisition, the group has integrated many lifestyle brands across categories to offer a seamless shopping experience.
THE WAY AHEAD
Maya aspires to become one of the top 5 departmental stores in the next 3-5 years with 100 outlets pan India. Maya looks forward to increase its retail space to 2 mn sq.ft with and target an annual turnover of Rs. 1000 crore spread across 100 stores by 2015. It has already partnered with some of the leading mall developers to develop best in class stores and has lined up strategic tie ups with a clear focus on growth through its sound business model.With robust systems already in place to sustain the increasing volume of operations, the group plans to develop aloyal customer base to evolve with the changing customer preferences.

---